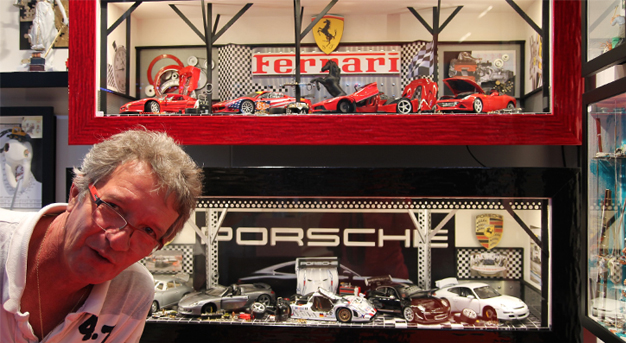 After six years of fine arts studying, at first in Paris( France) then in San Francisco (USA) Patrick Richard began to work as a designer just after getting graduate "Bachelor of fine arts".
Beside his job, Patrick Richard's favourite hobby was "building miniature scenes ,framed for decorating his home"..
When visiting him & seeing his art productions, his friends encouraged him to set up his own company to sell it. It's how "La Ruée vers l'Art" began.
Each piece is handmade to order , with meticulous attention to details &  will never be exactly the same as another one, even if at first it looks similar.
Each piece comes with a certificate of authenticity, is numbered & signed by the designer.
 
 

 

 

Patrick RICHARD

 

Born : 24.01.1956

 

1973-1976 he studied at  Paris art & graphic  school "Rue Madame", 3 years

 

1976 : P. Richard left France for USA . he spent 3 years in
San Francisco -CA- at "the Academy of fine arts"

 

1978 : he got graduated "bachelor of fine art"

 

31.12.1978 : Back to France

 

1978-1982 : employed at "La guilde des orfèvres" : designer & sales promotion

 

1982-1986 : employed at "Richard Ledroff" : designer & sales promotion

 

1986-1987 : Free-lance : designer

 

1988 : LA RUEE VERS L'ART is born ...