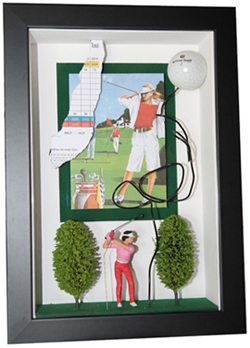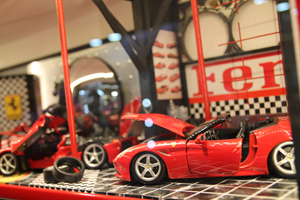 The activity of the company  is based on producing/manufacturing & selling  100% handcrafted in France ( nearby Barbizon, well known impressionist art painters  village) decorative items  called "art shadow boxes" or "dioramas"  or " 3 dimensional assemblages "(depending on countries) based on various themes ,mainly men oriented, such as classic or racing cars ( formula one) , airplanes, motorcycles, sports, hobbies & professions .
Regulary, new designs and new themes come in addition to our catalog(ue).

Each piece is handmade to order , with meticulous attention to details &  will never be exactly the same than another one even if it looks alike.
Each piece comes with a certificate of authenticity, is numbered & signed by the designer.
The "patient-miniature-detailed" & original work of art, its realism,  the quality of the finishing & the final touch of humour make of this artwork a perfect, unique, original & personalized gift for men.
All these pieces can be either hung or displayed standing between shelves of a furniture.
In addition to its permanent regular catalog(ue), LA RUEE VERS L'ART also offers to trade companies & to private customers a specific service of personalization